A 3 month old male presents as a transfer from an outside hospital with a radiographic diagnosis of pneumonia. X-ray is shown on figure 1. On arrival, the patient is in mild respiratory distress, but overall not toxic appearing. Vital signs are as follows: T 100.3°F (37.94°C), HR 145 (sinus) BP 99/59 RR 35. On examination, the patient has scattered and mild wheezing on auscultation, but no focal findings.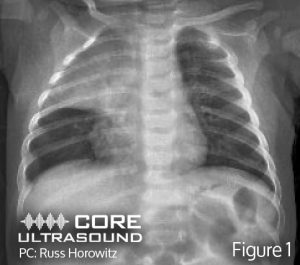 You perform a bedside ultrasound to confirm the x-ray findings of pneumonia and find the following:
Based on the x-ray and the ultrasound, what structure is most likely visualized by both modalities?
What is the diagnosis? (Click the button for the answer!)

Thymus; viral infection
Your bedside ultrasound demonstrates the appearance of a thymus. Due to concern for admitting the patient without a clear picture of a bacterial pneumonia, you obtain a second x-ray, which is seen below in figure 2. After the second x-ray is obtained, the admitting pediatric team is consulted and the patient is deemed appropriate for outpatient management of a presumed viral pneumonia.
The thymus reaches is maximum size at around 5 months of age, and decreases size during the first decade of life. 1
The thymus has smaller internal echoes with more homogenous and hypoechoic tissue, as well as having discrete borders.1
Pneumonia has less homogenous tissue with scattered shadowing as well as less discrete borders (shred sign).
In the pediatric patient, lung ultrasound has been found to be 96% sensitive and 93% specific for pneumonia. 2
The following clip shows an example of a  pneumonia in a four-year-old.

For a tutorial on how to perform the examination, check out the 5 minute sono video on pneumonia
Case Courtesy of Russ Horowitz, MD
Peer Reviewed by Ben Smith, MD
References
Gravel CA, Bachur RG. Point-of-Care Ultrasound Differentiation of Lung Consolidation and Normal Thymus in Pediatric Patients: An Educational Case Series. The Journal of emergency medicine. 2018; 55(2):235-239. [PMID: 29784474]
Pereda MA, Chavez MA, Hooper-Miele CC. Lung ultrasound for the diagnosis of pneumonia in children: a meta-analysis. Pediatrics. 2015; 135(4):714-22. [PMID: 25780071]