29 yo male presents to the ED with the chief complaint of penile pain after approximately 8 hours of continuous coitus. He reports that the pain is worse with erections, but still present when flaccid. He denies fever, chills, n/v or any other signs or symptoms of systemic involvement. The patient denies any other medical history, or a family history of clotting disorders. Physical exam reveals a normal appearing flaccid penis that is mildly tender at the base. No discoloration is noted.

Diagnosis: Mondor's Disease
Bedside ultrasound visualized a non-mobile hyperechoic clot in the proximal end of the dorsal penile vein.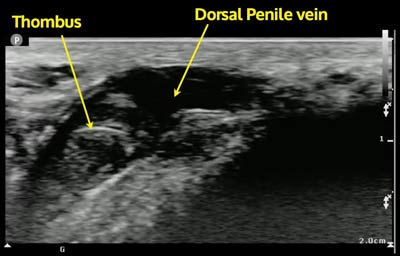 Mondor's disease is defined as a thrombosis of a superficial vein, classically located on breast tissue.1
Superficial thrombosis of the dorsal penile vein was first described in 1958.2
Literature on this disease consists of cases and case series, as it is a fairly rare disease. It has been associated with local trauma, abstinence, urogenical infections and clotting disorders, among others.1
The diagnosis is typically made on physical exam, but ultrasound can be used to aid in the diagnosis.3

The ultrasound transducer of choice is the linear transducer. The dorsal penile vein should be evaluated along its entirety. The visualization of a hyperechoic cloth within the lumen can help confirm the diagnosis. Generally, b-mode visualization is all that is needed, but assistance with color Doppler may be necessary.

Conservative medical treatment, including the use of NSAIDs and warm compress has been found to be efficacious, but thrombectomy or superficial penile vein resection may be indicated if refractory.4,5